Server errors: Info

[Discussion forum]
Last updated: March 3rd, 2008

Please save a link to this page, or even save this page entirely (File>>Save As) in the event that a server error prevents access to this page in the future. If you saved it, please check back occasionally for updates though
No, you do not need to save the discussion forum.

This page is for instructions on how to best handle server problems on my site. The following are considered known server problems:

1. The infamous Service Unavailable: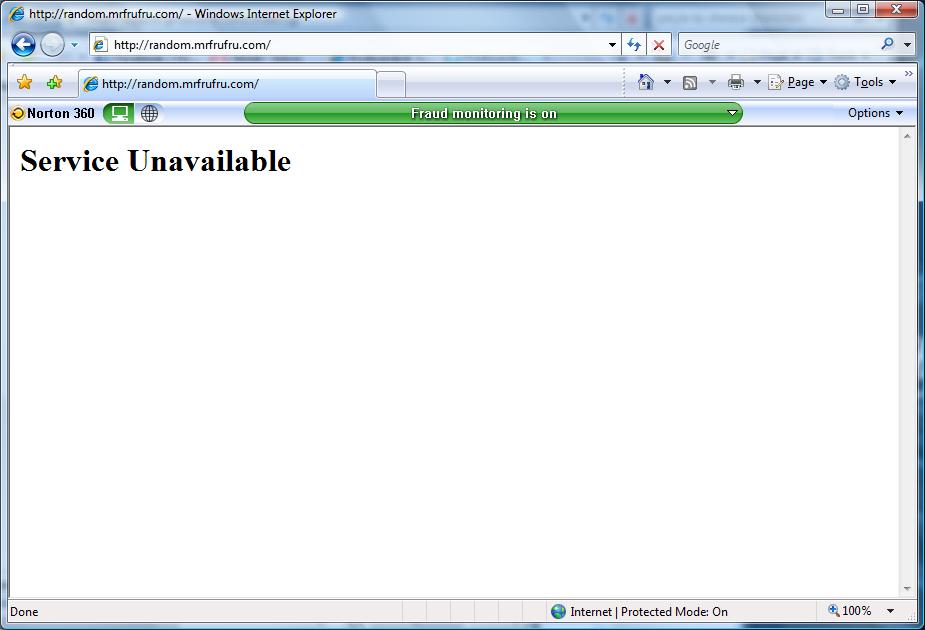 This is also a known cause of broken image randomizers, so if your randomizer keeps showing a broken image, this could be the cause. Before concluding that it is a server problem though, make sure none of the images are broken (modify your randomizer and click the link at the bottom of the page). Also, make sure the error is not as a result of the additional conditions described there.
2. The pop-up password dialog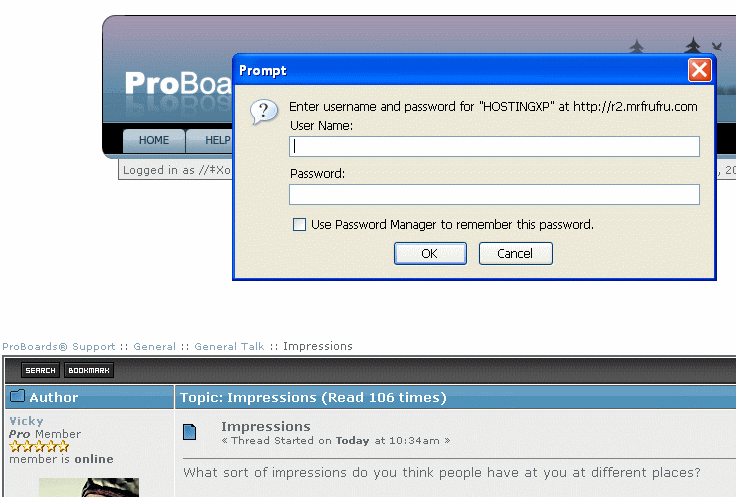 This error, though rare, is very annoying. It not only breaks the images and pages, but draws unneeded attention to itself. On forums such as Proboards? Support, it will pop up asking for a password whenever one of my randomizers are loaded (which, considering the activity of the forum, and the number of people who use my randomizers, is a huge problem). The 2 times so far that this has occurred, I was completely away from the computer. It fixed itself within a few minutes, but again, even in that time it was a huge problem. In the event that this happens again, DO NOT fill up a certain General Talk board or Support board with spam threads, DO NOT send me messages, but IMMEDIATELY phone my tech support giving the the domain of the problem (e.g. r2.mrfrufru.com or a.random-image.net) (contact info is at the bottom). Afterwards, feel free to go to my forum and post your thoughts in the discussion board.
3. A Modifying Error
????error '80070070'
????[filename], line #
This error, though also getting rare, seems to occur for long periods of time. This is not considered one of those truly horrible errors as they do not interfere with randomizer display, but if you do any adding or modifying of things, it could cause your user files to become corrupt. If you suspect that that has happened, please post in my Support Board. If the error is still ongoing, please use the email contact info below for 1and1.
---
Why did I finally do this page now? As of the beginning of September 2007, I will be starting my first year at University, and I will have absolutely no time to handle these issues myself (yes, my users are important to me, but at this time my education must take priority). I do care, which is why I took the time to write this page. I have contacted 1and1 by email and by phone countless times, and we just keep going around in useless circles, while the error is still occurring. I am sure that many of my users will have more time to spare than I do, and are willing to do a favor for me after I have worked so hard myself to create services (e.g. Randomizers, table generator, color chart, and other ASP scripts) for them from scratch. Mind you, I am in no way trying to guilt you into doing these things for me. It's for a better service for all of us. Since the people who are experiencing the problem are my users, and the only people who can fix the problem is my host, I have decided to cut out the middle man, me. Try to work together to find a solution. Remember that I have included a discussion forum.

When sending an email to support, it is a good idea to include the following code:

BcjeuyNE6m

I emailed them earlier saying that those who send that can be verified as working with me. Remember to describe problems as best as you can. Make sure it is clear that it is NOT a problem with your own computer, as I know it isn't. Make it impossible for them to deny that it is a server problem on their side, and it must be fixed as soon as possible. I recommend not using the phone number unless the error involving the password popups is occurring.

Contact info (phone number toll free in North America):



(Yes, despite the fact that my host isn't doing a very good job, I still don't want them to get spammed as a result of this...)


Remember, this is for your quality of service! Thank you!
-Jason Li (frufru)